Louis Smith, 23, MBE compares 'gongs' with Arlene Phillips,70, CBE at Buckingham Palace earlier today


Picture credit: John Stillwell : PAWire
The City of Peterboroughs' favourite Olympian gymnast ( Olympic bronze medallist - it should have been Gold by our calculation ) who put the term 'pummel horse' into the dictionary, and also won the BBC's 'Strictly Come Dancing' series - Louis Smith, 23, was presented with an MBE decoration at Buckingham Palace, by H M The Queen, earlier today.
Clearly enjoying the ceremony, he later paused for a picture with Arlene Phillips,70, who collected a CBE. Louis, recently returned from a UK wide
Strictly Come Dancing
tour, told Her Majesty that he was now visiting schools to encourage schoolchildren to get involved in sport.
CLICK ON READ MORE ICON BELOW
Arlene Phillips became a household name as director and choreographer of
Hot Gossip
, a dance troupe which she formed in 1974. British television director, David Mallet invited Arlene to make Hot Gossip a regular feature of
The Kenny Everett Show
on ITV London - Thames Television , first being aired in 1978. It was during this time that
Hot Gossip
made their only hit record "I Lost My Heart to a Starship Trooper" Sarah Brightman was a member of Hot Gossip....
Happy Valentines Day .... You did remember?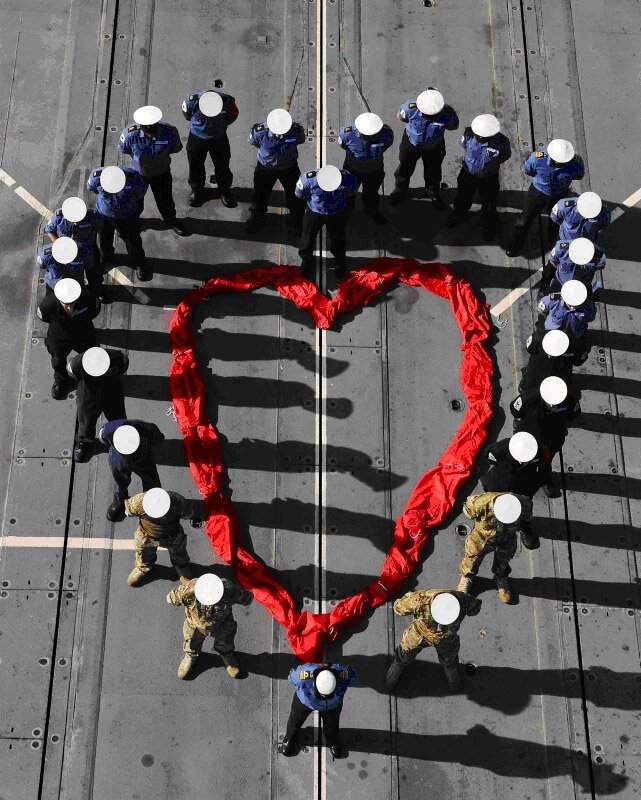 Sailors on board HMS Monmouth create a giant heart on their flight deck for a bespoke Valentines card
POLICE 101, Emergency 999, Crimestoppers 0800 555 111 & NEWSDESK 01733 345581 E&OE