PCC Budget passed 29 in favour, 25 against with one member abstaining but Cllr David Seaton confirms on BBC Cambridgeshire (Friday) that Peterborough STILL faces a huge debit of £61 million by 2017/18 (but possibly down to £18 million in the red, IF ALL their cost saving measures work... but Freemans Solar has failed already!)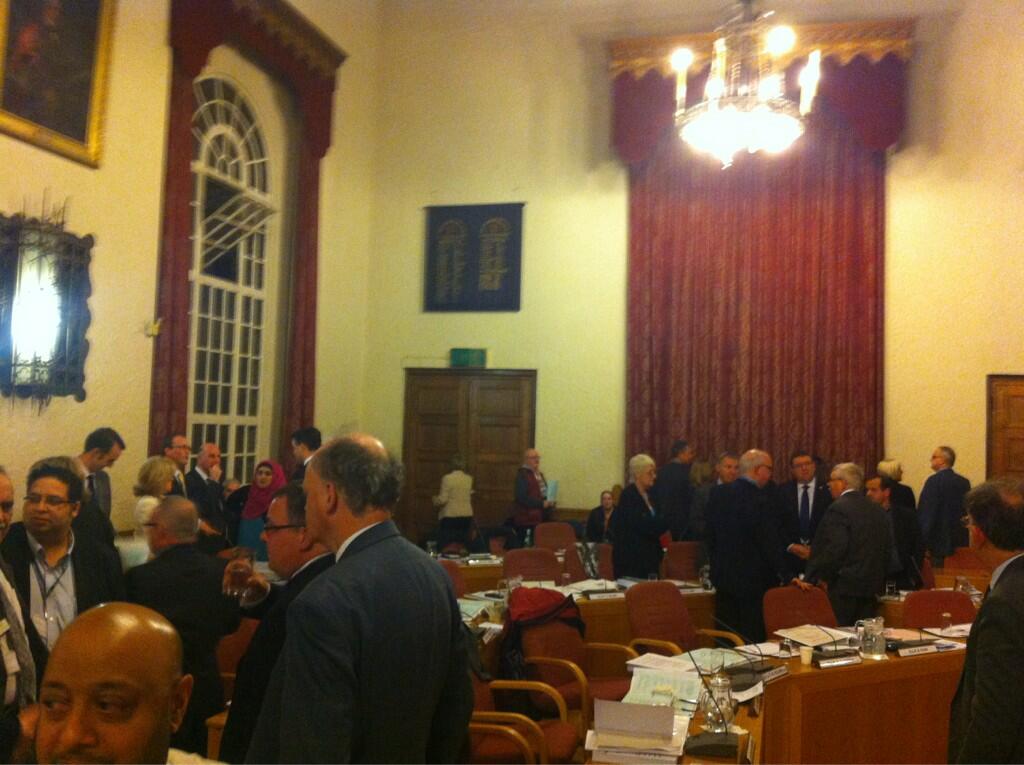 They had only just started but Peterborough Council Meeting abruptly halted to allow the elected members to calm down.....
Council Meeting Sketch:
Well attended demo outside Town Hall waving banners but someone forget to get the TV involved. 'Making the children pay' says placard. Many members of the public have indicated they wish to ask questions but some councillors want to cut it short, even cutting out 'question time' completely. The atmosphere is tense, a Cabinet member gets overexcited and has a go at a member of public. Councillors are discussing how long to extend the time allowed for community questions whereas Cllr Sanders muses "let them have what they want." Heated unstructured debate, with some cracks in the robotic voting lines. Angry councillors on both sides. This is warming up nicely. Tories have never seen such emotion, well not since the last time Cllr Sheila Scott OBE staggered to her feet and blustered her way though.
Leader Marco Cereste scowling as his Sky News interviews were not only upstaged by Stewart Jackson MP from Westminster but also the announcement of the 2,500 UK job losses at Thomas Cook and long serving Co-Op employees recently transferred to the holiday company also being given their P45's, but there is further dissension in the normally compliant ranks.
CLICK ON READ MORE ICON BELOW
A 10 minute break is called for to allow tempers to calm down, the Mayor bless him trying to rule a somewhat disorderly meeting and a packed public gallery prone to partisan bouts of clapping anyone opposing the adoption of the Budget.
The Freemans building solar panel project which the PCC are on the hook for £1 million but the details known only to a select few and shrouded in secrecy until a few weeks ago. It turns out the installation has yet to generate even £1 worth of electricity. This comes in for a bit of stick from the opposition parties, then play centres threatened with closure, are centre stage as they are to be axed as part of the slash and burn budget being debated, and debated, anther few items crossed off the agenda, and that was the core of Community Involvement Time.
The Housing Allocations Policy expected to be given a rough ride but it gets through with 31 robotic votes for, one brave soul votes against and the usual 18 abstain... .A pattern we have encountered before. For those who have not experienced the council in full cry, its a confusing sight. A set protocol has to be followed, in this incubator for parliamentary process, but as we have the dead hand of the majority party, the voting pattern is almost the same at every meeting. The budget was passed without changes by a narrow vote 29 in favour and 25 against with one member abstaining. Eight playcentres will now close. The opposition might as well have stayed at home.
PLEASE CLICK ON READ MORE ICON BELOW
Cllr Seaton who authored the budget package dismissing all the protests with a soundbite style claim that the budget "strikes the right balance between supporting vulnerable people and delivering vital services."
We'll get back to you on that councillor, as there are many unhappy people all over this chamber.
The Town Hall Pravda or as some like to call it
Your Peterborough
a glossy colour handout delivered to every home "and ending up in the wastebins shortly afterwards," according to the scourge of the Cathedral Square pigeons Cllr Fox, the £80,000:00 budget he suggests could be used elsewhere and it would also make Minister Eric Pickles a happy man down in Westminster, who has vowed to remove all so called Town Hall Pravdas. A moment of light relief as Cllr Peach challenges the opposition not to moan about the budget, unless they can come up with alternatives.
Cllr Murphy however maintains the financial risk in the budget could 'bankrupt the city' probably forgetting that all of the huge figures being bandied about would be borrowed at the special local authority rate of around 4 per cent.You can almost see the tumbleweed rolling down Bridge Street, past the chipped and battered new War Memorial. Time is marching on so the executive extends the meeting cut off to a later time of 11:30pm ..... So the slash 'n' burn PCC Budget has scraped through, but there again we all knew that it would....a win for robotic voting, as democracy takes a seat at the back of the room...
POLICE 101, Emergency 999, Crimestoppers 0800 555 111 & NEWSDESK 01733 345581 E&OE