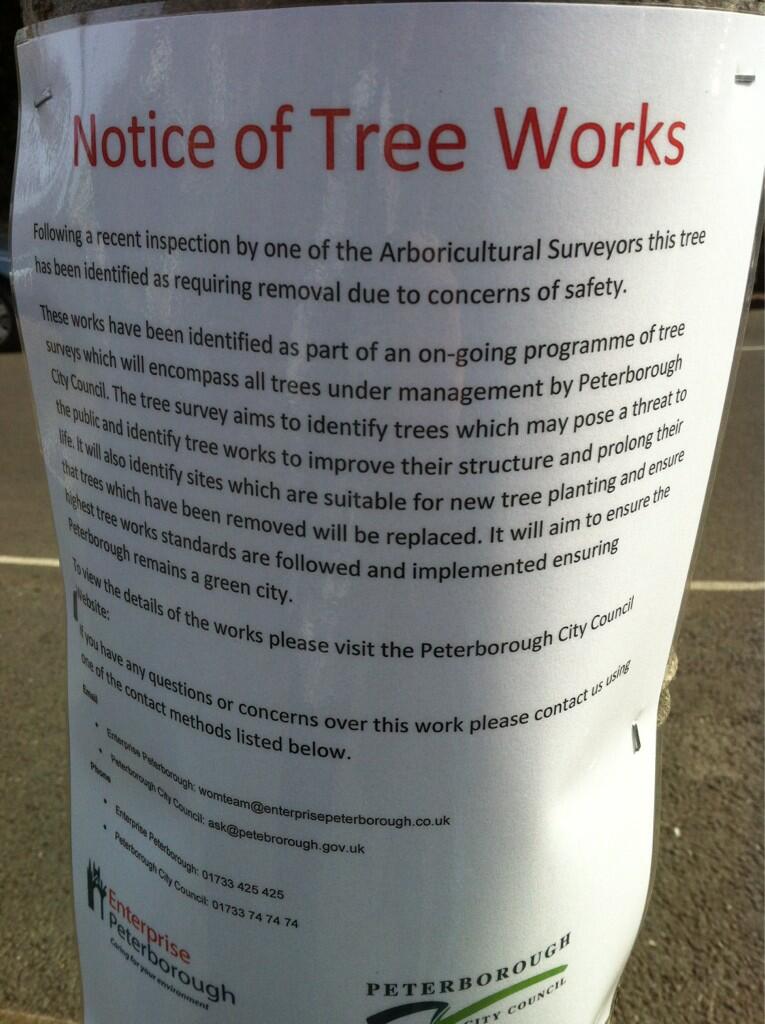 http://www.peterborough.gov.uk/environment/council_owned_trees/programme_of_works.aspx
Seems like yet another good caper after Marco Cerestes' Bridge Street Tree carnage; rather than look after our prized tree stock, just chop them down and replace with a few cheap root balled saplings (or large corporation green plastic flower tubs?). Enterprize will no doubt, trouser the cut timber revenue proceeds ...
But the joke wears a bit thin when we hear that yet another ETC (Extra to Contract) wedge, £700,000 of public funds has seemingly been allocated. Even thinner when you consider the 'meals on wheels' budget has been squeezed to help fund several PCC adventures, this being the latest.
Some of the condemned trees, says a local expert, simply need a good tree surgeon and better hydration.
The trees are at the Broadway end of town, but anyone having the detail of this please contact us An Aboricultural Surveyor sounds grand but the qualifications (if any) are very basic.
POLICE 101, Emergency 999, Crimestoppers 0800 555 111, PBOROtrib NEWSDESK 01733 345581, E&OE
FEED (PASTE THIS LINK)
http://feeds.feedburner.com/ParkFarmNeighbourhoodNewsTel01733345581PeterboroughcambridgeshireUk