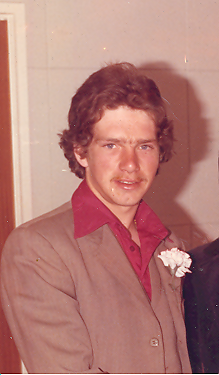 COLD CASE:Andrew Bedford murder - bones discovered - ARREST MADE
Bone pieces have been discovered during a search carried out as part of an investigation into the murder of Andrew Bedford nearly 25 years ago. The fragments were discovered by scenes of crime officers, forensic scientists and detectives during the 13-day search, which began on land off Stocking Fen Road in April. Experts have confirmed the bones are consistent with being human.
A Cold Case called Operation Ongar was re-launched on April 10 by the Bedfordshire,
Cambridgeshire and Hertfordshire Major Crime Unit to re-investigate the death of Andrew, who was last seen on Friday, September 28, 1990, at Factory Bank, off Great Whyte, Ramsey.
Earlier this morning (June 17) and linked to the discovery of the bones, a 64 year-old man from Ramsey was also arrested at his home on suspicion of conspiracy to murder and has been taken to a Cambridgeshire police station.
DCI Martin Brunning, who is leading the murder inquiry, said: "The bones were discovered during a painstaking search of the area we had identified as being of interest."
"An expert in forensic anthropology has assisted the investigation and the bones will now subject to DNA testing and much more intrusive forensic analysis. Forensic processes have evolved significantly in the last 25 years."
DCI Brunning said the re-launch of the investigation in April had already received an encouraging response from the public but the answers the inquiry was seeking still lie within the local community.
He said: "I want to bring anyone involved in Andrew's death to justice and provide critical closure for his family, who have always desperately hoped for his return. Unsolved murder cases are never closed and we will leave no stone unturned.
"I am confident that local people have the additional information we need to provide Andrew's family with the resolution they so rightly deserve, so I would urge anyone who thinks they can help us to come forward. This is your opportunity to make a difference to so many people affected by Andrew's disappearance.
"All information given to us will be dealt with sensitively and, alternatively, people can contact Crimestoppers, anonymously, on
0800 555111
."
Andrew, 27, was last seen in a light blue Ford Cortina estate car eating some takeaway food, possibly fish and chips.
Andrew, then of Tweed Street, Huntingdon, was wearing overalls, a khaki jumper, jeans and trainers and was described as 5'8", of medium build, with mousey blond, curly, shoulder-length hair and various tattoos.
Andrew was a reported missing by his girlfriend on Saturday, September 29, 1990 after failing to return home as planned. Detectives believe Andrew was killed on the Friday evening and he had been seen by a number of people in the town until the early evening.
Anyone with information should contact the Major Crime Unit on
01480 422791
01480 422791
, email operation.ongar@cambs.pnn.police.uk, or call Crimestoppers, anonymously, on
0800 555111
0800 555111
FREE
.
E&OE google.com/+JulianBray Tel:+44 (0) 1733 345581 (Option: Reportophone enhanced) ISDN COOBE LINK: +44 (0) 1733 345020 [G722 & ATX Codecs] IPHONE 0743 303 145
http://feeds.feedburner.com/BraysDuckhouseBlog
.