Just to show that we can spread the love around all the parties. Take a good look at this choice internal memo (below) seen by the BBC.
At first glace it could be a classic Stewart Jackson style memo, but look closer and it's a UKIP missive hanging Suzanne Evans out to dry.
A week is clearly a long time in politics. TDP is The Daily Politics programme hosted by Andrew Neil and the Nigel referred to is fun-loving, beer-swilling Nigel Farage.
They can be just as much fun as the Central Peterborough Labour Party who carried out its threat last night to oust Ed Murphy.
It cannot be too long before the Conservatives join in the fray. The Anaerobic Digester Planning scandal is about to really hit the fan, As we hear that Cllr Turnip is crossing his fingers, that the huge FENGATE AD plant slips silently though planning whilst the Councillor is busily sounding off about the out of town Horsey Toll plant...neat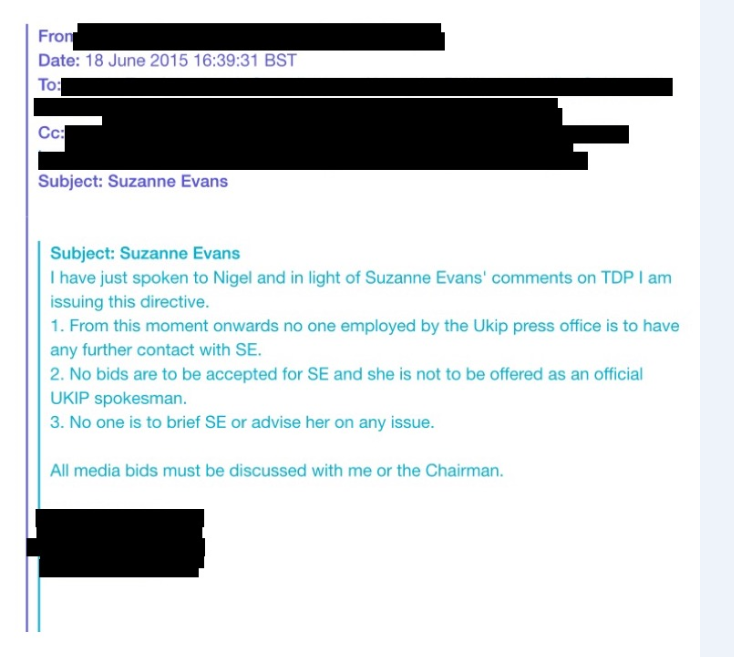 E&OE google.com/+JulianBray Tel:+44 (0) 1733 345581 (Option: Reportophone enhanced) ISDN COOBE LINK: +44 (0) 1733 345020 [G722 & ATX Codecs] IPHONE 0743 303 145 http://feeds.feedburner.com/BraysDuckhouseBlog
.