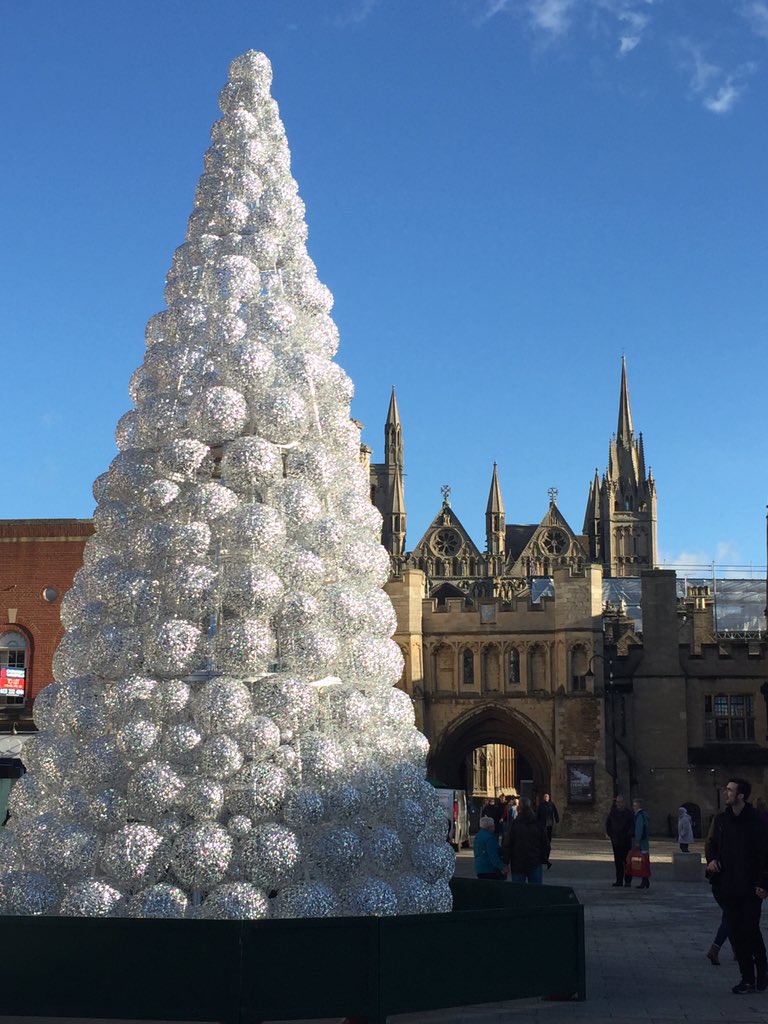 CHRISTMAS TURKEY ONE
CHRISTMAS TURKEY TWO
The Christmas Day Turkey traditionally roasted on our Webber dome kettle barbeque. You start at 9am,
PBOROTRIBsketch A Christmas Tale ...
Although the tradition of decorating the home with evergreens was long established, the custom of decorating an entire small tree was unknown in Britain until some two centuries ago.
At the time of the personal union with Hanover, George III's German-born wife, Charlotte of Mecklenburg-Strelitz, introduced a Christmas tree at a party she gave for children in 1800.
The custom did not at first spread much beyond the royal family. Queen Victoria as a child was familiar with it and a tree was placed in her room every Christmas. In her journal for Christmas Eve 1832, the delighted 13-year-old princess wrote:
"After dinner... we then went into the drawing-room near the dining-room... There were two large round tables on which were placed two trees hung with lights and sugar ornaments. All the presents being placed round the trees..."
After Victoria's marriage to her German cousin Prince Albert, by 1841 the custom became even more widespread as wealthier middle-class families followed the fashion. In 1842 a newspaper advert for Christmas trees makes clear their smart cachet, German origins and association with children and gift-giving.
An illustrated book, The Christmas Tree, describing their use and origins in detail, was on sale in December 1844. In 1847, Prince Albert wrote: "I must now seek in the children an echo of what Ernest [his brother] and I were in the old time, of what we felt and thought; and their delight in the Christmas-trees is not less than ours used to be".
A boost to the trend was given in 1848 when The Illustrated London News, in a report picked up by other papers, described the trees in Windsor Castle in detail and showed the main tree, surrounded by the Royal family, on its cover.
------------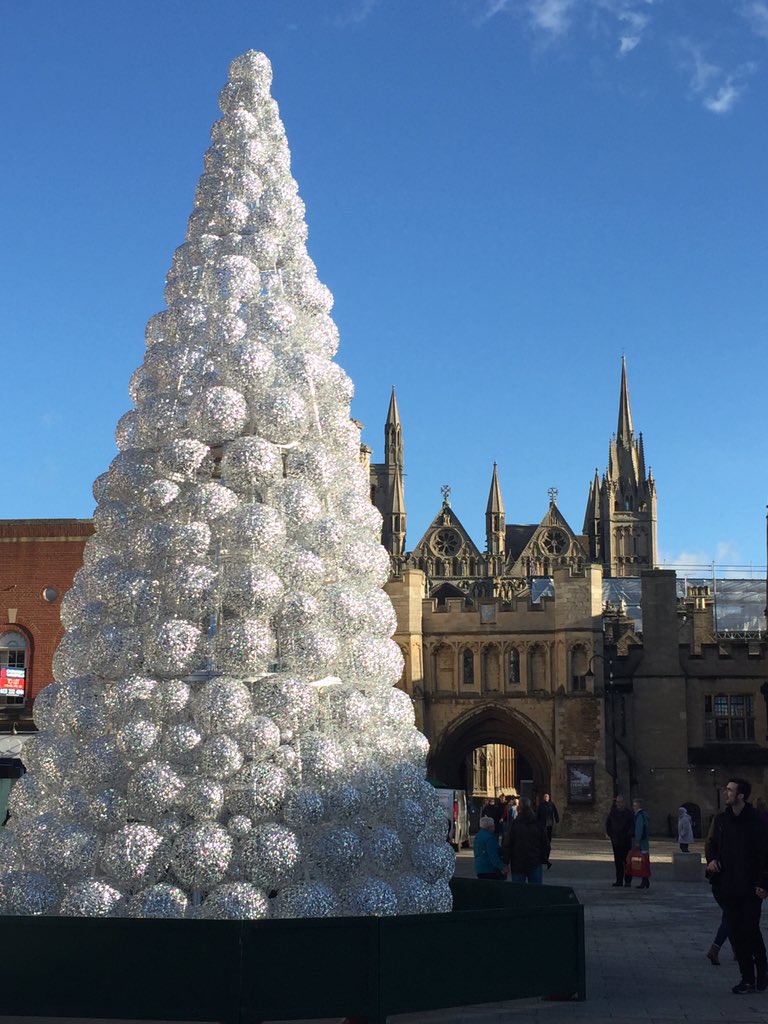 Now you know what £40,000:00 of borrowed public money looks like!
Same effect could have been achieved by asking Peterborough
Supermarkets to dump their filled white plastic rubbish bags
in Cathedral Square for a few weeks...
In 2015, the proud City of Peterborough, Cambridgeshire "Evironmenti das Kapitali" no less, the good 'Peterburgers' decided the day of the evergreen Christmas tree was over, for centuries traditionally placed and enjoyed in festive Cathedral Square, home to the fabled Cereste memorial fountains or the "Pigeon & Small Dirty Boy Wash' but henceforth consigned to history, along with the red balloon, coloured Christmas lights, evening bus services, hot meals on wheels and Council run Care Homes.
The new puritans also decreed the word 'Christmas' too would be banned, as a huge soft drinks lorry was verily summoned from the new colonies to promote a 'Happy Holidays' theme. But wise counsel, they mused, multiple performances of 'Jesus Christ Superstar' in the much troubled Broadway Theatre, along with Tommy Steele for the price of a ticket verily more than 'half a sixpence' would impart some commercial Christmas cheer.
And it came to pass, the week, the national newspapers aided by the Scrooge like Tax Payers Allowance and the soon to be banished Angels embodied in the Freedom of Information Act, shone an unwanted starry beam of light on the mega eyewatering salaries and expenses relentlessly paid out by the cash strapped Peterborough City Council to its officers, and they were 'sore afraid.'
But verily,
decided on a Christmas Present to the homeless huddled around the soup kitchen (behind the Brewery Tap pub) and children living in poverty, for so many years denied a good rating, giving them a gift of hot food, warmth, love and clean bedding, would be their quest.
But 'low' a new star on the east coast - guided the three wise men, and a woman too - verily those with bulging publicly funded pay packets, decided £40,000 would be better spent not on food and warmth but on a secular 'homage' to its main industry, promoting marginally cheaper electricity, and that that of bountiful Warehouse sheds, iconic bubble wrap, and a source of low grade seasonal short term employment.
A resource possibly too soon to be welcomed by the legions of unemployed tax collectors, verily to be driven out of their two Peterborough based castles and others located in the East, in the name of efficiency by arch King Herod, and his demonic chancellor Gideon George Osborne Maximus
The council verily sated by the Mayors recession busting charity supporting mince pies party, ordered the construction of a huge upended cone, the like of which had never been seen before - except perhaps in the iconic film 'The Wicker Man.' But this was a vision in white, depicting giant bubble wrap and they were again 'sore afraid.'
The residents were 'sore afraid' because it was made of environmentally unfriendly traditional plastic, not just any old plastic, but vacuum pre-formed festive plastic that would never be recycled or compost down for much need environmental post festivities mulch, but would spread its message of "bubble wrap pays your temporary part time festive wages, be thankful because the big cuts start in April "
And verily it came to pass there was no room in the Inn, as it too had been shut down and turned into much needed exploitative bed sits and an austerity pizza (no toppings) take away ....
Nothwithstanding have a very Merry Christmas, and call in to see an elderly neighbour, just to see
how they are...
Seasonal Greetings to one and all..
E&OE google.com/+JulianBray Tel:+44 (0) 1733 345581 IPHONE 0743 303 145
.