The iconic Didcot Cooling Towers in happier times...
Search and Rescue teams are still looking for three people who are still missing after part of the old Turbine Hall of the decommissioned Didcot power station collapsed on Tuesday afternoon, killing one and injuring five others. The building was in the process of being prepared for demolition and earlier fears that explosive charges were detonated accidentally, has now been officially discounted.
Local sources confirmed this is still regarded as a Search & Rescue, Not a Recovery operation.
The disaster
has been declared a major national incident.
Audio sensors, rescue sniffers dogs, including two drones equipped with sensors and camera pods have been deployed, but assistant chief fire officer Simon Furlong warned this morning (Wednesday) that so far the teams "haven't picked up any positive signs of life".
Emergency services drawn from Oxfordshire Fire and Rescue Service, South Central Ambulance Service and Thames Valley Police attended along with air ambulances, four specialist Hazardous Area Response Team vehicles and six ambulances. Teams from Liverpool and Hampshire are also on site along with structural engineers plus Health & Safety Executive [HSE] investigators.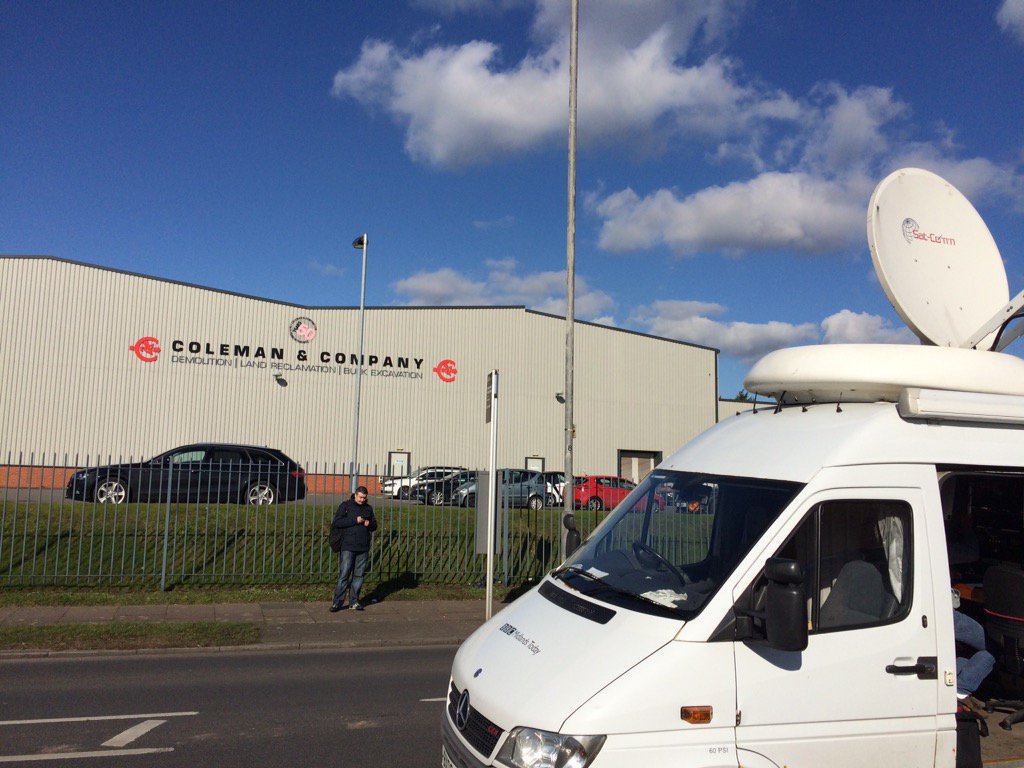 BBC Midlands Today 'vanstepping' the Northern based demolition firm Coleman & Company
One person was declared dead at the scene. More than 47 people were treated on sitevia a Triage system for dust inhalation, while five others were taken to hospital. One of the men is said to be in a "serious, but non-life threatening condition".
A major incident was called after the NPower-owned 10-storey building collapsed yesterday afternoon at around 4pm. The building was due for controlled demolishion within the next fortnight.
Northern contractors Coleman Demolition tweeted yesterday that it was "working with all stakeholders to establish facts". It is not thought to be related to terrorism.
Chief fire officer Furlong added: "The remainder of the building is very unsafe which is hampering the search. This is a very difficult situation with a very unstable structure. The safety of emergency service personnel has to remain our priority, while recognising how hard this must be for families waiting for news of loved ones overnight. Our sympathies are with them, and the family of the person who died here yesterday.
"An expert from Cheshire with similar experience is due on site today to advise on the search.
"The police will be taking over control of the site as part of ongoing investigation but we are continuing working with fire services from Bucks, Hants and West Midlands, and this work may continue for several days."
An Npower spokesperson said last night: "We can confirm that shortly after 4pm this afternoon part of the Boiler House at our former Didcot A Power Station site in Oxfordshire collapsed while an external demolition contractor was working in it.
"It is with great sadness that we understand that there has been one fatality, four people have been taken to hospital and three people are currently missing and unaccounted for.
"Our thoughts are with the families of all those involved in this tragedy. We will provide updates as we receive them. We are working with the emergency services who are currently on site to understand the cause of this.
DIDCOT POWER STATION recognised by many for its iconic water cooling towers originally designed and built by Norwest Holst and using a then revolutionary form of constantly moving slip-form concrete construction. Three of the towers have already been demolished despite a campaign to save them, and the final ones are soon to be removed.
Norwest Holst was the result of the merger in 1969 of Holst & Co. with Norwest Construction
Holst & Co., founded in 1918 by a Danish engineer, focused on reinforced concrete structures, such as cooling towers, whereas Norwest Construction, based in Liverpool, specialised in laying underground cables.
Together, the two companies gave rise to one of the largest building and civil engineering groups in England. In 1991, SGE acquired a controlling interest in Norwest Holst.
Sources: BBC,CNS,PA,
E&OE google.com/+JulianBray Tel:+44 (0) 1733 345581
.